ALLIS CHALMERS "190" XT

Manufactured by Ertl in the mid 1960's.

It has the same grill as the "190" winged decal.

The only difference between the two is in the decals on the left and right sides.




DECALS: on the Left and Right side, the Dash, and the Grill

FRONT TIRE: 7x1 1/2" rib tread, flat face, plain

REAR TIRE: 12x1 3/4" lug tread, plain

RIMS: Smooth High Dome with low dome hubcaps

HUBS: Round hub with large plastic bearings

CHAIN: Regular chain

PEDALS: Black ribbed plastic, Hat Pushnuts

STEERING WHEEL: Flat 3 spoke diecast

SEAT: Same as the "190" Winged decal

HITCH: Round head rivet type hitch pin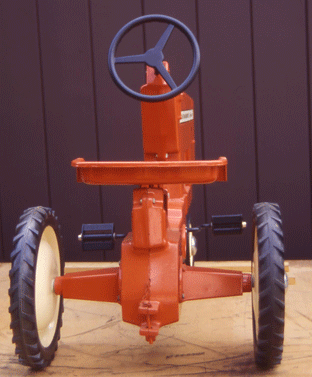 Check out the video with more information closeups.
http://youtu.be/zF4jHIXbGvA


copyright Real Deal Productions, Inc.