Latest news
New short story by S.S. Wlson
"Gerro's Giant Grongeduke."
READ S.S. WILSON'S NEW SHORT STORY!
I've always been fascinated by things-that-swarm (like killer bees, army ants or the shriekers in Tremors 2) and I've been avidly following news of the current hatch of millions of 17 year cicadas. So it seems the perfect time to publish a story I've written that is (sort of) a tribute to such creatures -- taken to an extreme sci-fi level.
It's called "Gerro's Giant Grongeduke." I'm putting it up on Amazon and If you like it, don't hesitate to check out my novels: Tucker's Monster and Fraidy Cats. And while you're at it, don't hesitate to buy them!
https://www.amazon.com/S-S-Wilson/e/B0048TYGPO?ref=sr_ntt_srch_lnk_1&qid=1636310961&sr=8-1
S.S. Wilson's new novel released Nov 13, 2013.
read the first chapter here: Fraidy_Cats_Chapter_One.pdf

You've read Mary Shelley's account (inaccurate).

You've seen Hollywood's many versions (way inaccurate).

Now, at last, you can learn the truth!

Find out what really went wrong with Dr. Frankenstein's famous experiment. It's all revealed in S. S. Wilson's new, meticulously researched exposé!

Fraidy Cats!
S.S. Wilson has just posted a new short story called "Minecraft ". Check it our by clicking the stories & articles link to the left.... enjoy.
Tucker's Monster Wins
THE USA "BEST BOOKS 2011" AWARDS for "Best New Fiction"
Tucker's Monster IBPA Benjamin Franklin Awards 2011 Winner
Real Deal Productions is proud to announce that S. S. Wilson's novel, Tucker's Monster, won the prestigious Bill Fisher Award for Best First Book - Fiction, presented at the 2011 Benjamin Franklin Awards, May 23 in New York. Sponsored by the Independent Book Publishers Association, the awards, now in their 23rd year, originated as a way of recognizing excellence in independent publishing. Each year, works grouped by genre are judged on editorial and design merit by top practitioners in each field. http://www.ibpa-online.org/pubresources/benfrank2011_winner.aspx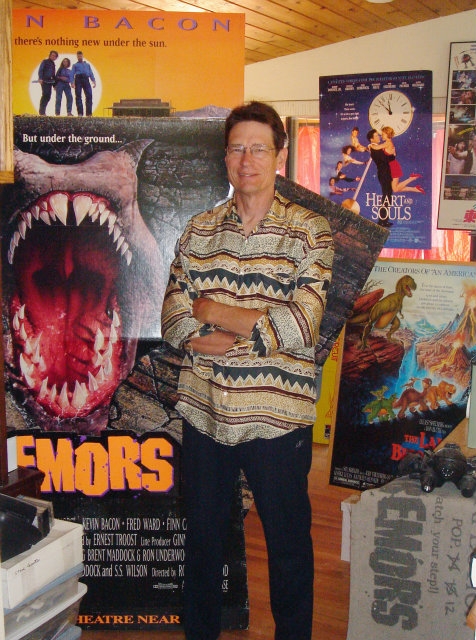 S.S. Wilson Writer, Director, Author,
With partner Brent Maddock S. S. Wilson's screenplays include Short Circuit, Short Circuit 2, Heart and Souls and The Wild Wild West. At Spielberg's Amblin they wrote Batteries Not Included and consulted on Land Before Time. They created the Tremors franchise; Wilson directed Tremors 2 and Tremors 4.
Tucker's Monster by S. S. Wilson
Entertaining for ages 12 and up.
In his first novel, veteran screenwriter S. S. Wilson (Tremors, Short Circuit, The Wild Wild West) offers up a rollicking adventure in which wide-eyed Whitney learns about werewolves, mummies, ghosts, and even meets a mad scientist. On a more subtle level, Wilson also pokes ample fun at classic horror movie clichés as he careens toward an unexpected (and Hollywood sized) climax.
Signed books available here in our store or you can order books at your favorite online retailers (Amazon - Barnes & Noble) or check your local bookstore for availability.
JUST RELEASED - Tucker's Monster Kindle ebook on Amazon for $2.99
Hard Cover books available wholesale from Ingram, soft cover books available from Real Deal Productions.
For more information, author appearance & interview requests or to request a review copy.
---
Semifinalist in the 2011 Amazon Breakthrough Novel Awards

Publishers Weekly Review

In this rip-roaring portrait of a man with the money, recklessness, and the tenacity to pursue his single-minded goal of discovering a live dinosaur in the year 1903, mild-mannered scientist Gerard Whitney answers a job ad only to find himself working for wealthy eccentric Harold B. Tucker on his Oklahoma ranch. Most days, Whitney is free to work on his scientific classifications, but when Tucker receives reports of hauntings, monster sightings, or other unexplained activity, Whitney must accompany him on his investigations. Sparing no expense, Tucker, his helpers, and his vast collection of firearms travel to Louisiana, Vermont, and ultimately to Venezuela, and neither Whitney nor Jenny, the Cherokee woman who is Tucker's wife and dinosaur-hunting partner, can persuade him out of threatening and bullying locals and even devastating ecosystems in pursuit of his impossible quarry. That both Tucker's companions and the novel's readers are inclined to forgive the manipulative, volatile dinosaur hunter is a testament to the author's character building. For all his gruffness and his power, Tucker is a man compelled by a tragically unrealizeable dream, and the pathos of his situation is clear. Tense action scenes, including a particularly memorable haunted house, keep the pace moving at a brisk clip. A heartfelt and well-realized tall tale.
---

S.S. Wilson is busily working on finishing his second novel. Hope he does not get too distracted by all the fun stuff in his office.
.
---
Real Deal Productions

presents three dvd's on pedal tractors.

Volume 1 covers John Deere and Allis Chalmers.

Volume 2 covers IH, Tractall and Case

Volume 3 covers Ford, Oliver, Massey Harris - Massey Ferguson, Minneapolis Moline and many misc pedal tractors.

Each dvd includes a chapter for each pedal tractor so you can easily jump the the one you are interested in seeing.

A great resource for pedal restoriation.

See the Books and Dvd tab for more detailed information.

The dvd was made from the svhs master from 1994.