IH LARGE "M"
Manufactured by Eska in the early 50's. Two versions exist.
First Version: has a bolt above the hitch.
Second Version: does not have a both above the hitch.
Has cast in gas cap and realistic hood design.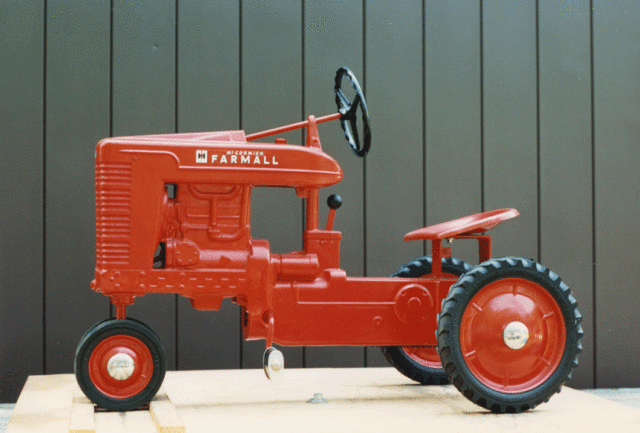 DECALS: Left and Right side, Eska decal on the rear, and a Farmall decal on the Front
GRILL: Closed, cast in grill design
FRONT TIRE: 7x1 1/2" rib tread, flat face, Eska
REAR TIRE: 12x1 3/4" lug tread, Eska
RIMS: STAR RIMS with low dome hubcaps
HUB: 3 tab Hub with large metal bearings
CHAIN: Regular
NOISEMAKER: Yes
PEDALS: Tear Drop solid rubber, with metal ends held on with domed pushnuts
STEERING WHEEL: Flat 3 spoke diecast
SEAT: H pattern stamped steel
HITCH: Eska style cadmium plated
Large M 1st version with bolt above hitch
IH Large M 2nd version with no bolt above the hitch
Check out the video with more information closeups.
copyright Real Deal Productions, Inc.