IH MIDSIZE "H" OPEN GRILL
Manufactured by Eska in the early 1950's.
Has bronze bearings in the body of the tractor, not in the hubs.
Has cast in air breather and cast in stump for a muffler hose.
This tractor is currently being reproduced.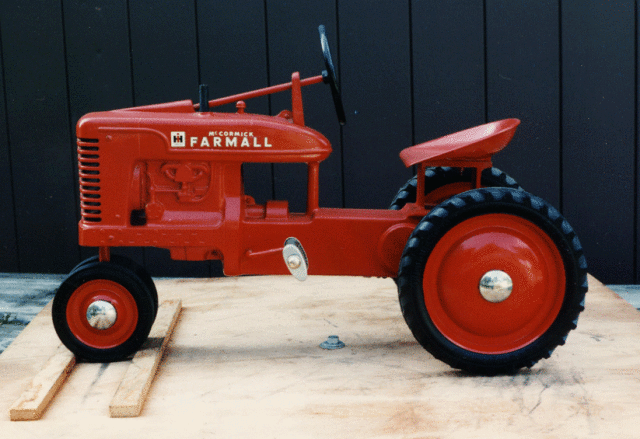 DECALS: Left and Right side, An Eska decal on the back, and a Farmall decal on the Front
GRILL: Cast in open grill, 11 holes on each side
FRONT TIRE: 7x1 1/4" rib tread, flat face, Eska
REAR TIRE: 12x1 3/4" lug tread, Eska
RIMS: Smooth Low Dome with high dome painted hubcap
HUB: "V" grooved hub held on with 2 rivets or some later ones had curved top hub with 2 rivets
CHAIN: Skip Tooth
REAR AXLE: 7/16"
PEDAL: Tear drop, solid rubber, with metal ends, held on with domed pushnuts
STEERING WHEEL: Large 7" round, 3 spoke also drilled with a set screw
SEAT BRACKET: Not flush with rear of tractor
SEAT: Same as is used on Oliver "88"
HITCH: Just a hole cast into the frame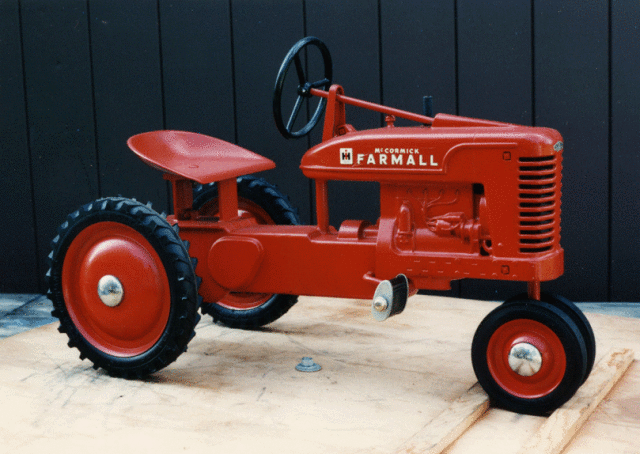 Check out the video with more information closeups.
copyright Real Deal Productions, Inc.