IH "SMALL H" OPEN GRILL
Manufactured by Eska in the late 1940's, early 1950's.
1st Version has cast in radiator cap, 2nd Version doesn't.
Both Versions have a cast in muffler that should be painted silver and a cast in air breather.
The Small "H's" have no bushings or bearings, just the sides of the casting hold the pedal crank.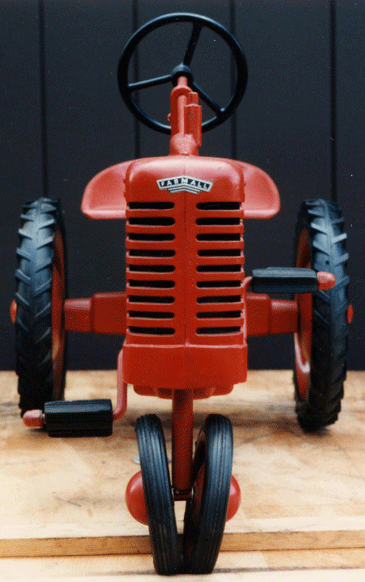 DECALS: Left and Right side, Eska decal on the back, and a Farmall decal above the grill
GRILL: Cast in open grill, 9 holes each side
FRONT TIRE: 6x1" rib tread, flat face
REAR TIRE: 12x1 3/4" lug tread Eska tires or a few early ones had rib tread Firestone tires
RIMS: Smooth Low Dome with high dome painted hubcaps.
HUBS: Unique hub held one with two rivets, only used on the Small "H"
CHAIN: Skip tooth
PEDALS: Teardrop, solid rubber, without metal ends held on with an unpainted acorn nut
STEERING WHEEL: Small 6" round 3 spoke steering wheel drilled with a set screw
SEAT BRACKET: Flush with rear of tractor
SEAT: Unique pan style, only used on the Small "H"
HITCH: A hole cast into the frame.
Check out the video with more information closeups.
copyright Real Deal Productions, Inc.