JOHN DEERE "130" 1ST VERSION
Manufactured by Eska in the late 1950's. May be three versions, but we only know of two.
This "130" has an open area between the bottom of the hood and the top of the fan drive shaft.
Only one bolt is used to fasten the two sides above the front wheel.
DECALS: Left and Right side, the Front grill, the back of the Seat, the Dash, and Steering Wheel
FRONT TIRE: 7x1 1/2" rib tread, flat face, Eska
REAR TIRE: 12x1 3/4" lug tread, Eska
RIMS: STAR RIMS with low dome hubcaps
HUB: Round hub with large metal bearings
CHAIN: Regular
NOISEMAKER: Yes
PEDALS: Teardrop, solid rubber with metal ends and domed
pushnuts
STEERING WHEEL: Flat, 3 spoke diecast
SEAT: Unique seat, thinner at the top than the Large "60" seat
HITCH: Eska style cadmium plated hitch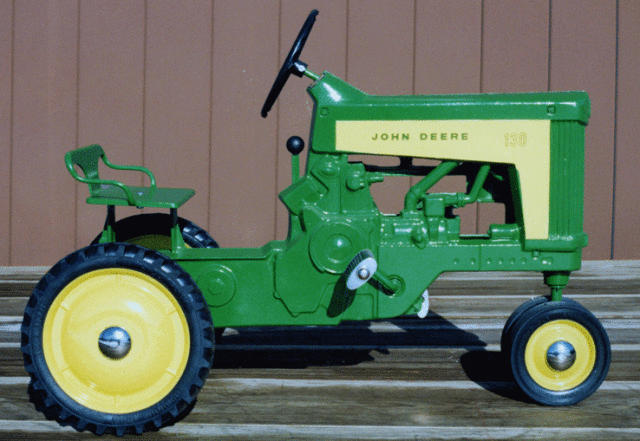 Check out the video for more in depth information and closeups.
copyright Real Deal Productions, Inc.