JOHN DEERE SMALL "60" LATE VERSION
Same as the early version Small "60" except for the rims, the hubcaps, the steering wheel, the seat bracket location, and the hitch.
DECALS: Left and Right side, the Front, and the back of the seat
GRILL: Closed cast in grill design
FRONT TIRE: 7x1 1/4" rib tread, flat face, Eska
REAR TIRE: 12x1 3/4" lug tread, Eska
HUB: Flat top
CHAIN: Skip Tooth
REAR AXLE: 7/16"
PEDALS: Tear drop, solid rubber with metal ends held on with domed pushnuts
RIMS: STAR RIMS with low dome hubcaps
HUB: Curved top hub
STEERING WHEEL: Flat Bar
SEAT BRACKET: Only 1/2" from rear of tractor and the seat held up with curved metal spring
HITCH: Has two gossets on either side of hitch hole for support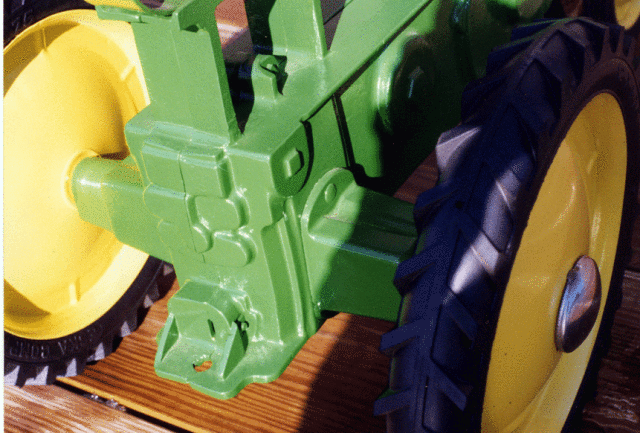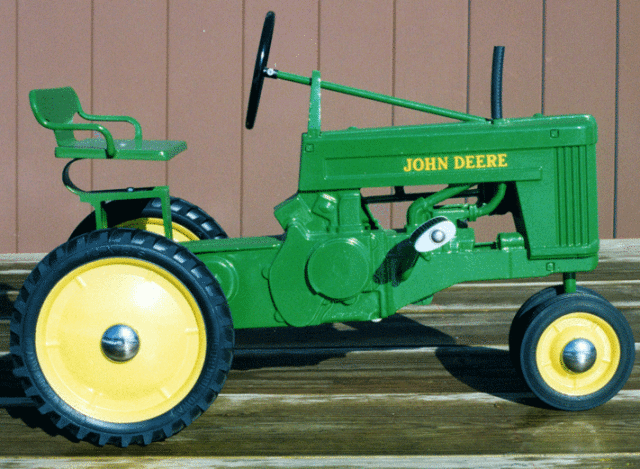 Check out the video for more indepth information and closeups.
copyright Real Deal Productions, Inc.