FORD "8000"
Manufactured by Ertl in the late 1960's. Three versions exist.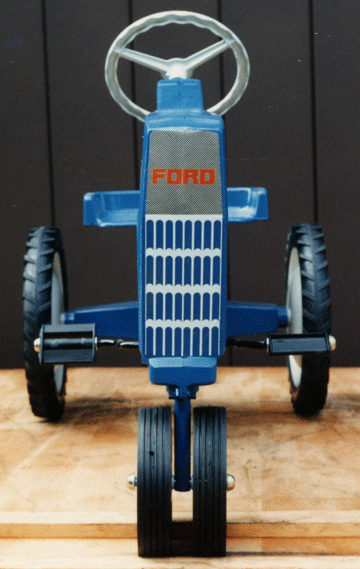 Early Version: LT Blue background decal, metal IH "806" Seat, flat 3 spoke Steering Wheel, FT Rim no hubcap slots. Seat- blue, Steering Wheel- grey, Domed pushnuts and pedal crank blue.

Middle, common Version: Dark blue background decal, Plastic Front Rim, Seat and Steering Wheel. Still uses the Smooth high domed Rear Rims with low dome hubcaps. Uses hat shaped pushnuts. Pedal crank should be painted blue.

Late Version: Same as Middle Version except that it has the current smaller hub and the Current High Ridge Rims. Pedal crank painted black.
DECALS: Left and Right side, steering wheel, and the Front
FRONT TIRE: 7x1 1/2" rib tread, flat face, plain
REAR TIRE: 12x1 3/4" lug tread, plain
RIMS: see above
HUB: see above, all have plastic bearings
PEDAL: Black ribbed plastic, for pushnuts see above
STEERING WHEEL and SEAT: see above
Check out the video with more information closeups.
copyright Real Deal Productions, Inc.