FORD "6000" DIESEL
Manufactured by Ertl in the early 1960's. Very difficult Ford to find.
Painted blue and grey, the older, darker grey like the "900's."
Pedal crank now installed from the bottom of the tractor.
The rear axle inserted through holes in the casting.
DECALS: Left and Right side, and the Front decal which should cover the whole grill area, not just a strip across the front like some decals are currently being reproduced
FRONT TIRE: 7x1 1/2" rib tread, flat face,
REAR TIRE: 12x1 3/4" lug tread, both plain
RIMS: Star Rims with low dome hubcaps
CHAIN: Regular
NOISEMAKER: No
PEDALS: Black ribbed plastic with domed pushnuts
Pedal crank should be same color as tractor
STEERING WHEEL: Flat, 3 spoke diecast
SEAT: Same pan type, spring supported seat as the Case "30"
HITCH: Same hook type as the Case "30"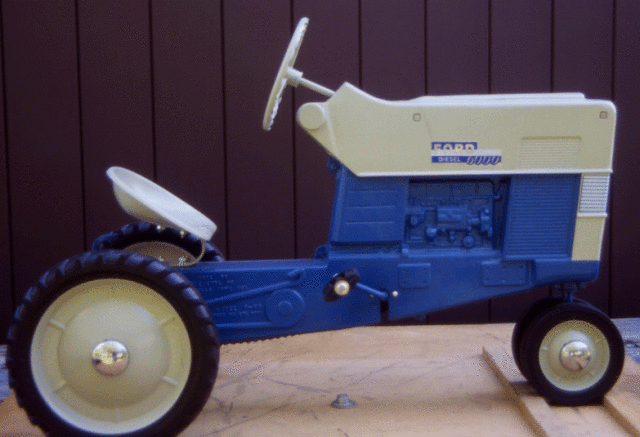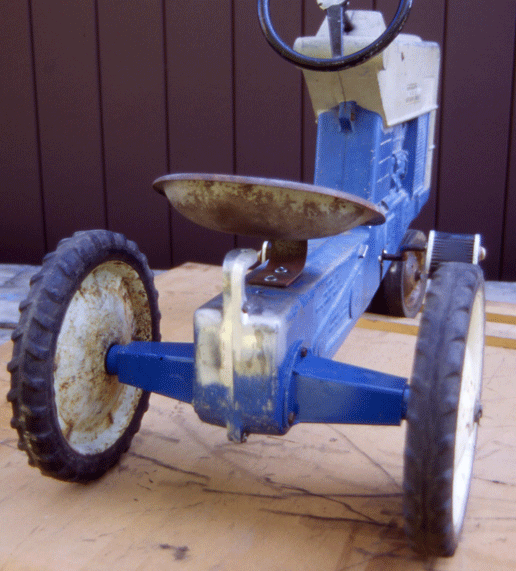 Check out the video with more information closeups.
copyright Real Deal Productions, Inc.