FORD "900" CHAIN STEER
Manufactured by Graphic Reproductions, this is very rare.
Has the most unique steering system ever used on a pedal tractor.
Painted grey and red with a black seat. Battery painted black.
Some variation in the hubs, seats, and hole pattern at the bottom of the grill, and holes on the sides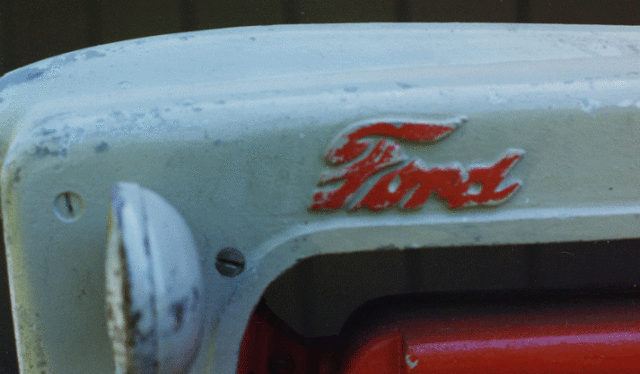 DECALS: Cast in raised letters, Ford name on both sides and the Fenders. Painted red.
GRILL: Closed cast in design with emblem, original "900" emblems have some red in the background
HEADLIGHTS: Two headlights with hole in sides of casting to help attach them
FRONT TIRE: 7x1 1/2" Swan tires, rib tread
REAR TIRE: 12x1 3/4" Swam tires, lug tread
RIMS: Star Rims with low dome hubcaps
HUBS: Unique to "900's" mounted with 3 bolts
CHAIN: Regular
NOISEMAKER: No
GEAR SHIFT LEVER: Top painted grey
PEDALS: Tear drop, solid rubber with metal ends, held on with domed pushnuts
STEERING WHEEL: Flat 3 spoke diecast
SEAT: Cast seat & fenders unique to "900's"
HITCH: Hitch pin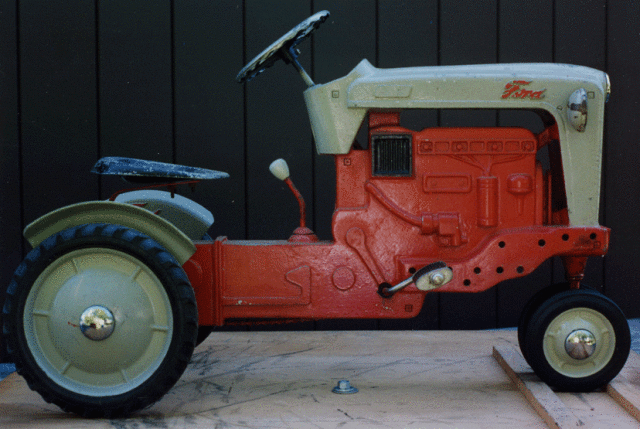 Check out the video with more information closeups.
Here is a video on the Ford Covered Wagon
copyright Real Deal Productions, Inc.