MINNEAPOLIS MOLINE "SHUTTLE SHIFT"
Manufactured by AMF. Commonly refereed to as the bullet nose. Like the Tot it is made from
stamped steel. Has a wider yoke above the front wheels than the Tot Tractor. Has a muffler.
Some were belt drive, while this is a chain drive.
It has two speeds forward and a neutral, accomplished by having two chains.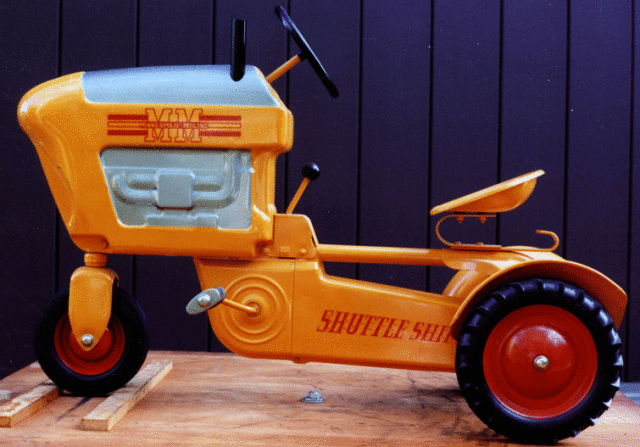 DECALS: Left and Right side and Chain guard
SPARK PLUGS: Should be painted black
REAR TIRES: 10x1 3/4" lug tread
RIMS: Smooth Dome Rims with domed pushnuts
HUBS: Has rear axle cover, no hubs
PEDALS: Tear drop, solid rubber with metal ends held on with domed pushnuts
STEERING WHEEL: Different than Tot Tractor
SEAT: Same seat and spring support as Tot
Check out the video with more information closeups.
copyright Real Deal Productions, Inc.